Girls spring baseball/Baseball féminin printemps
---
---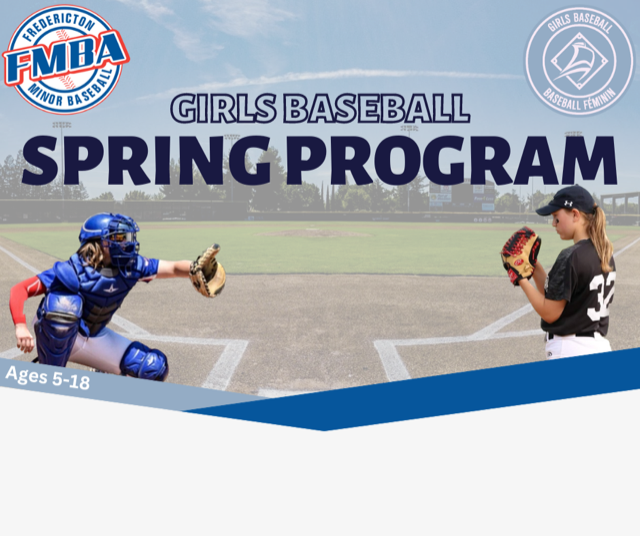 ---
Girls Spring Training/entraînement de printemps pour les filles
Working together with Baseball New Brunswick, FMBA will be offering 5 girls spring training sessions as per the schedule below. This program is for new and experienced players 5-18 (born 2005-2018). Our goal is to give instruction for both new and returning players in the basics for throwing, fielding, hitting and running.
If you register by March 22, 2023, Baseball New Brunswick will provide a free TShirt, and you can register at http://Fredericton.rampregistrations.com
Cost is $1.00 (must have an amount for registration!)
En collaboration avec Baseball Nouveau-Brunswick, la FMBA offrira 5 sessions d'entraînement de printemps pour les filles selon l'horaire ci-dessous. Ce programme s'adresse aux nouvelles joueuses et aux joueuses expérimentées de 5 à 18 ans (nées entre 2005 et 2018). Notre objectif est d'enseigner aux nouvelles joueuses et à celles qui reviennent les bases du lancer, du champ, de la frappe et de la course.
Si vous vous inscrivez avant le 22 mars 2023, Baseball Nouveau-Brunswick vous offrira un chandail gratuit. Vous pouvez vous inscrire http://Fredericton.rampregistrations.com
Le coût est de 1,00 $ (il faut avoir un montant pour s'inscrire !)
| | | | | |
| --- | --- | --- | --- | --- |
| UNB Dome | FHS Gym | UNB Dome | FHS Gym | FHS Gym |
| 15-Apr | 19-Apr | 23-Apr | 26-Apr | 3-May |
| Saturday | Wednesday | Sunday | Wednesday | Wednesday |
| 12:30-2:00pm | 7:00-8:30pm | 12:30-2:00pm | 7:00-8:30pm | 7:00-8:30pm |